Number and Structure of Personnel
Measures implemented by MRSK Holding's companies to maintain their personnel potential enable them to keep their staffing level at not lower than 97% of the required number of employees for several years and keep their personnel turnover (the ratio between voluntary resignations and the staff on the payroll) at not higher than 6%, which shows MRSK Holding's companies to attractive and socially responsible employers.
With the aim of reducing personnel turnover, companies work to develop and carry out target-oriented measures to retain key employees:
social benefits and guarantees
insurance coverage
non-state pension coverage programs
assistance in improving housing conditions for certain employee categories
personnel development projects.
Personnel by Category
Workers account for the largest part of MRSK Holding's personnel, which is due to the specific features of electricity distribution processes. Technical employees represent approximately 60%. Compared with 2011, the personnel structure did not undergo substantial changes.
Personnel by Age
Finding the optimum balance between terminating the employment of retirement-age personnel, retaining highly qualified employees, and hiring young people is an important component of replacing and retaining the personnel potential of distribution grid companies.
DIAGRAM 7. PERSONNEL BY OCCUPATIONAL CATEGORY AND FUNCTION
Given the particularities of their activities related to the maintenance and operation of electric grid facilities, MRSK Holding's companies mainly recruit local residents. A rare exception is remote regions with a shortage of labor, where rotational team methods are used for the operation of electric grid facilities (Khanty-Mansijsk Autonomous District, Yamalo-Nenets Autonomous District).
In order to maintain and develop the personnel potential, electric grid companies' personnel policies focus on minimizing the risks associated with the demographic situation in the regions of their operations and associated with disparities in the professional training system.
For this purpose, extensive work continues on cooperation with educational institutions both in recruiting young people and in updating the training programs for personnel of electric grid companies.
Given future needs for technical specialists, electric grid companies pay special attention to working with young people. Companies implement programs to form and develop the youth personnel reserve and target-oriented motivation programs. Measures to recruit and retain young people in MRSK Holding's companies allow the Company's SDCs to maintain the age characteristics of their employees.
An analysis of the qualitative characteristics of MRSK Holding's human resources makes it possible to state that there is balance between the energy and working ability of young personnel and the experience of older employees. Among other things, this is due to recruitment of young people in MRSK Holding's companies.
The workforce of the most active working age—45 years old and under—accounts for 57.9%.
As to retirement-age personnel, measures are taken to ensure equilibrium between retaining highly qualified employees who, as mentors and in-house teachers, can share their experience with young people and terminating the employment of retirees who work at power facilities and in hazardous conditions. The knowledge and experience of older employees are in demand in organizing adaptation measures for newly hired employees, in providing on-site training, and in organizing practical training at the training centers of companies.
DIAGRAM 8. CHANGES IN PERSONNEL BY AGE IN 2010–2012; PERSONNEL TURNOVER IN 2012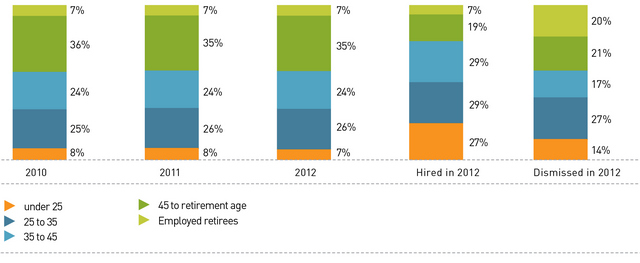 Скачать в XLS
Guarantees contained in collective bargaining agreements and non-state pension coverage programs apply to resigned retirement-age personnel.
Personnel by Educational Level
In recent years, the educational level of personnel has improved, with a growing share of employees with a higher education and a simultaneously a decreasing share of employees without a professional education.
At the end of 2012, the share of personnel with a higher education was 38.9% of the total number of employees (36.3% in 2010). The share of personnel without a professional education decreased by two percentage points two years in a row.
The focus on recruiting higher qualified personnel in electric grid companies improved the characteristics of employees in terms of educational qualifications. The package of motivation programs has an important role in recruiting and retaining personnel in MRSK Holding's companies.
DIAGRAM 9. CHANGES IN PERSONNEL BY EDUCATIONAL LEVEL IN 2010–2012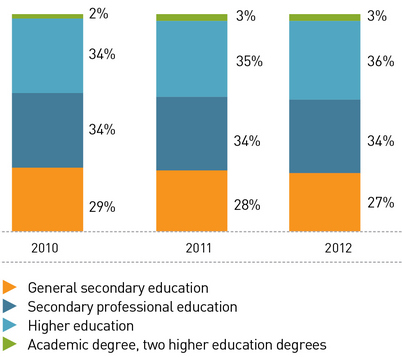 Скачать в XLS